Now You can easily use your external SD card as Internal storage for your Android phone
Use External SD Card as Internal Storage: Worried on the low internal space in your mobile phone??? Don't Worry! Here is the trick to using your external SD Card as an Internal Storage by a simple method using this trick.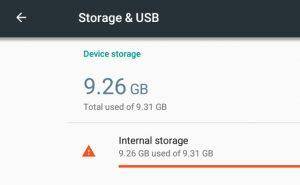 Nowadays many of us are experiencing a situation where we are out of Internal storage and which that makes us unable to install new Applications and Some Application will start to crash while using mobile phone
Note: This function will work in the Android Marsh-mellow Platform and above versions of it
The main reasons which our internal storage pile up because of the Applications which are consuming the disk space at huge level though we are using some random applications like Clean master, Du Boosters In order to save the RAM space But it may not be used to be the great savior all the times
Here is one of the method to these kinds of situations
How to Use External SD card as Internal storage:
Follow the below steps (This  method works on Android 6.0 and above versions)
There are two Options to use the SD card
Using as Portable Device
Using as Internal Storage
Using as Portable Device
Let us assume that you have a Movie or Want to take backup of your photos now you can insert the SD card or An OTG Pen-drive
Note: Here we have used the Sony OTG pen-drive it also shows up as will as SD card
     Now Select the Setup Option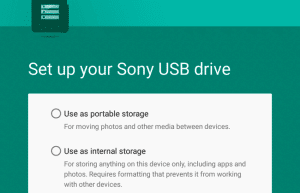 Select -> Use as portable storage
Thus you can use your device as portable media
Note: Don't disconnect the OTG drive while Transferring the data it may end in loss of data
Using as Internal storage:
Note: In this method, we will be asked to format our SD card or OTG drive .we recommend to take a fullbackup of your data cause it may result in loss of Data.
Go to Setting –>'Storage and USB' in setting menu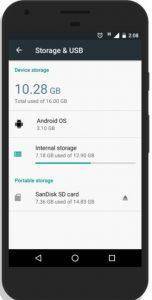 Select your external microSD card under the 'Portable storage' section and tap on it.
After Selecting you will be directed to theexternal micro-SD, locate the three-dot menu at the top-right and hit on 'Settings'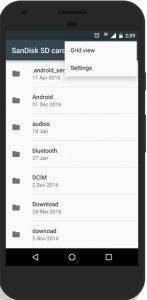 After that, you will get four options. Choose'Format as internal'

Select –>format as internal

 You will soon see a screen saying that your micro-SD card will be erased completely and will only work on that particular device. Tap on'Erase and Format'.
After finishing the process, your external SD card will now work as your internal storage.
Note: Not Every SD card will support.You just need to use Class 10 SD card because of the data transfer rate will be higher
(Visited 1 times, 1 visits today)